Skeetre surfing the waves at North Shore (Tropical Beach, Ymatryl, Delusions)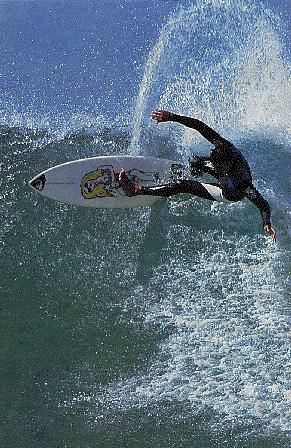 This is me...
The 5'8" young man with short brown hair notices you checking him out and poses for you. He looks as if dressed for a night on the town, wearing adouble breasted, dark teal suit with a green silk shirt and black tiewith green circles on it, but underneath the suit he is wearing a black Quicksilver wet suit (for he is always ready to surf). The young man lives at North Shore, room #9262, and welcomes all to come and visit. If he is not home, his house is still welcome to your use, his servants will takecare of you.
After tiring of letting you look him over, the young man walks up toyou and says, "Now that you know who I am, who are you?"


Skeetre (sex: man) is awake.
*Email: skeetre@mudz.org
*Url: http://www.geocities.com/yosemite/1296
tinyadoptedkidbro: Scootre
tinymommy: Dotte
tinypet: Starkitty

Carrying: sex wax, a Quicksilver Board and a Backpack

I've always got my boards and some sex wax with me to keep a grip on 'em! And I always carry my backpack too, it's got my Marked deck of cards and my snacks in it. (and sometimes people too, like Scootre and Wendi (: )

You just have to take a look at Skeetre's Surf Shop!

Last updated: 9/9/96
© Copyright Nov 1995 / Sept 1996 Skeetre's Surf Shop Inc.